CBD Food Rules: Can I Cook With CBD?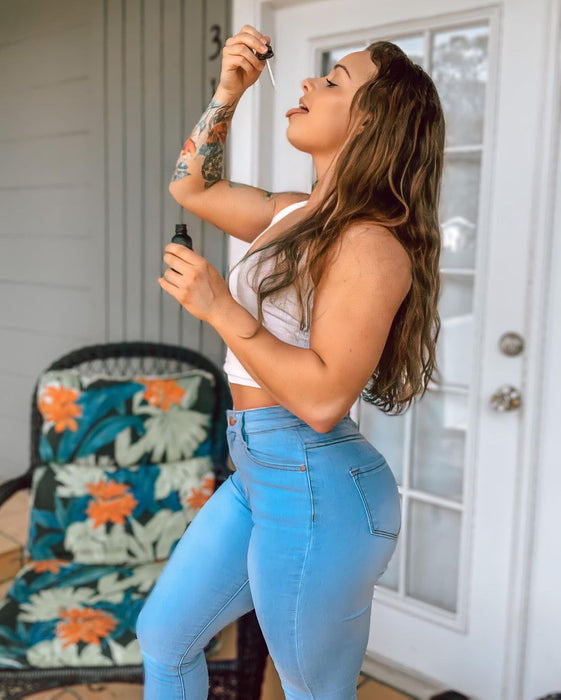 There are plenty of ways you can get your daily CBD intake. Just think about it - gummies, patches, oils, gels, creams, capsules – I mean I could go on. However, one of the most underrated ways to get a daily dose of CBD is CBD food. CBD pairs well with sweet and savory dishes alike, which makes it easy to incorporate into virtually any recipe. For example, you can add a few drops of your favorite iCBD oil into your smoothie in the morning or in your salad dressing for dinner. If you're eager to become a CBD food connoisseur, we'll break down everything you need to know about CBD foods, how to cook with CBD, and how you can make recipes of your own. 
How to Use CBD in Food
When it comes to choosing CBD products to cook with, tinctures and oils are the way to go. Before you start shopping, though, it's important to keep in mind how different tinctures and oils can be. Some have fruity flavors, for instance, while others have a more natural, earthy taste. Others, like vanilla-flavored CBD, are sweet and are best for baking. With this in mind, the recipes you choose to add your oils in might differ based on the flavor you're going for. On the other hand, if you're hard to please with CBD food, you can choose to add unflavored CBD oils into your dishes to avoid changing the flavor profile. 
In general, when choosing a CBD oil for CBD food, look for products that have other safe food-grade ingredients like organic carrier oils or natural flavorings. Plus, you should always make sure you're getting your CBD products from high-quality, trustworthy brands that have had their product line tested by third-party labs to ensure they are safe and contain the labeled CBD potency. 
Another key factor to keep in mind is strength and the type of CBD. Many people like using full-spectrum oil, for example, especially when they want to add a little CBD into their morning CBD coffee or after-dinner dessert. Either way, you should make sure the product's concentration is tailored to your needs and CBD dosage preferences.
Rules for Making CBD Food 
While we don't expect you to be the Gordon Ramsay of CBD food, there are some rules you need to follow instead of going rogue in the kitchen. If you want to nail the texture, taste, and consistency of your CBD food dishes, take note of these three vital rules.
Don't Use Too Much Oil: When incorporating tinctures oils into a dish, you'll want to avoid changing the consistency of the final CBD food product. To do this, use oil sparingly.

Don't Put Oil on Direct Heat: Putting the CBD oil on direct heat while cooking can remove critical cannabinoids and terpenes that come together to cause the entourage effect of CBD. The first thing to know when cooking or baking with CBD is that it begins to break down somewhere

between 320 and 356 degrees Fahrenheit

.

Stovetop Rule: When adding CBD oil to anything that you'd cook on a stovetop, remove the pan from heat and allow the contents to cool for a minute before stirring in your desired amount of CBD oil.
CBD Food Recipes
If reading to this spot has made you hungry, don't worry – we don't blame you! Here are some CBD-friendly recipes that you can add to your diet! There's a mix of savory and sweet, so you won't have to neglect your sweet tooth.
1. CBD Guacamole
Ingredients
3 medium ripe avocados, peeled, halved, and seeded

1 tbsp lime juice

½ tsp kosher salt

½ tsp ground cumin

¼ tsp ground cayenne pepper

½ medium onion, finely diced

2 small tomatoes, seeded and diced

1 large garlic clove, minced

1 tbsp fresh cilantro leaves, chopped

½ jalapeno pepper, finely chopped

iCBD Oil
Instructions
Place the avocados in a bowl and mash them with a fork.

Add the salt, cumin, garlic, cayenne pepper, cilantro, onion, jalapeño, tomatoes, and lime juice. Top the mixture with your CBD oil and stir to combine.

Cover the bowl with plastic wrap and let the guacamole sit at room temperature for 2 hours before serving.
2. CBD Chocolate-Covered Strawberries
 Ingredients
1 pint of fresh strawberries

¾ cup chocolate chips

½ teaspoon coconut oil

iCBD oil
 Instructions 
Line a baking sheet with foil or parchment paper.

Wash and pat dry your strawberries.

In a microwave-safe bowl, combine the chocolate chips and coconut oil.

Microwave 60 seconds. Remove and stir.

Continue to microwave on 30-second intervals until smooth.

Using a digital thermometer, ensure the temperature is lower than 240 degrees. If it is, gently stir in the CBD oil. If it is not, wait until the temperature is below 240 degrees before stirring in the CBB.

Gently dip the strawberries into the chocolate and set on the lined baking sheet to let cool.
3. CBD Salad Dressing 
Ingredients
1/2 cup of extra-virgin olive oil

3 tablespoons of balsamic vinegar

1 tablespoon of Dijon mustard

1 tablespoon of honey

1 minced garlic clove

1/4 teaspoon of sea salt

Ground black pepper (to taste)

iCBD oil

 
Instructions
Combine all of the ingredients in a bowl.

Add iCBD oil

Stir using a whisk or fork
6 CBD Cocktails To Mix Up for Your Next Party